Search Engine Marketing and SEO
"How to Plug Your Business Into the Internet!"
You want a website to drive more business. You already understand making your business presence online is the best and lowest cost marketing tool available. You may also know a beautiful website is completely worthless if it cannot be found.
So where do you begin? The answer is Search Engine Marketing, or SEM.
Ever wonder how consumers find websites on the Internet? According to a survey by FR in 2015, they are found by:
Social Media (Facebook): 96%
Search engines: 81%
Link from another site: 59%
Viral marketing (word of mouth, non online social media): 56%
Television: 48%
Guessed web address: 41%
Online advertising: 20%
Radio: 19%
Direct mail: 10%
Search Marketing and Your Business
The top three bullet points above are what SEM is all about. Search marketing consists of on-page and off-page website optimization techniques known as Search Engine Optimization, or SEO to draw visitors to your website.
When a visitor reaches your website, statistics are gathered to monitor virtually everything about their visit, and most importantly, whether or not they reached your ultimate goal. And yes, viral marketing (word of mouth online via Social Media and offline) is search marketing too. A more commonly known label thrown around these days to describe the age of viral marketing is Social Media. Your website can receive large amounts of quality traffic by being socially active in networks (such as blogs, Facebook, Twitter, YouTube,  forums or chat rooms) and building trust and reputation aimed toward your business — all at little to no cost!
Is your business being found by the top 90% of consumers? Do you have someone designated to monitor your current website statistics and making needed changes?
If you cannot answer yes to either of these two questions, it's definitely time to make Search Engine Marketing (SEM) a major part of your marketing efforts.
Contact us today for a free consultation and estimate.
How Does SEM Work?
Search Engine Marketing is the process of increasing the number of visitors to your business's website, monitoring their site usage statistics, then further enhancing the website based on these statistics to increase the number of buyers.
Search Engine Optimization, or SEO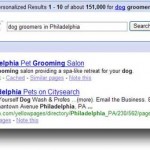 The first part of SEM involves Search Engine Optimization, or SEO. SEO increases your search engine visibility within organic, or free search results. Search engine visibility is achieved when your website title and description appears in a search engine user's results when typing in keywords or phrases related to what you're marketing. For example, if your business is dog grooming and your targeted area is Rochester, a potential visitor may type into the search box some variation of "dog groomers in Rochester." When your website is optimized properly and your content is trusted by search engines, you have a much higher potential of showing up higher in the search results for those key terms. There are many other factors effecting SEO however keyword placement within a website is an important piece of the puzzle.
Paid Inclusion in Search Engines
Yahoo! is one search engine which still offers paid inclusion into their search index. Paid inclusion is also a part of SEO however it does not guarantee high search result placement. There are some advantages to paid inclusion for some site owners. One is for websites who have regularly changing content, such as eCommerce websites. Paid inclusion will have search engine spiders crawl the website more often and deeper within its file structure. Another is for brand new websites. Paid inclusion allows a website to be crawled within one or two days as opposed to it being naturally found within a couple of months or so. For the most part, paid inclusion isn't as popular today as it once was years ago.
Paid Placement in Search Engines
Another method of search marketing is paid placement in search engines. The majority or search engines used today have paid placement listing options but require a specific fee for "ad real estate" space. Like a magazine, there are editorials and paid ads relevant to those editorials. With paid placement, advertisers are guaranteed a high ranking in search results under a "sponsored listings" area of the results page. The position of paid placement listings will vary though and usually by fee. They can appear above the free "or organic" search result links, or they can appear to the side or at the bottom of the page. Either way, they are identified as some type of "sponsored listing" or "sponsored results." The most popular terms for paid placement ads are Pay Per Click, or PPC and Cost Per Click, or CPC. To learn more about PPC and see an example of costs associated, visit the our PPC page.
Monitoring Your Website Visitors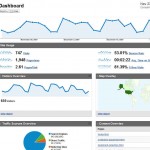 And lastly, but most importantly, there are website statistics. How well is your website performing? Even if you're receiving traffic, it's still important to watch how your visitors navigate your website. Trends can be spotted to make adjustments in keywords and content or even website structure to better accommodate them. 6×6 Design can install and monitor your website statistics or set it up so you can do it yourself. Learn more about website statistics.