With 6×6 Design, you do not need to know a thing about websites, Search Engine Optimization (SEO) or Search Engine Marketing (SEM). 6×6 Design will work with the designated contact you choose and provide exceptional customer service and down-to-earth, step-by-step communication. We will listen to your needs and map out a plan to accomplish them.
A personal and confidential consultation will help you better understand what website design and search engine marketing could do for your business. Contact us today for your FREE consultation.
First Impression is Everything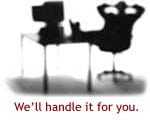 We want your visitors to find a user-friendly website design encouraging a trusted and professional first impression; critical to any small business presence. Our own business reputation relies on your success so you can be assured you will be getting the best possible search engine marketing and website design services at a fraction of the cost of much larger website design and search engine marketing companies.
Convenience
The entire website design process is done with or without your assistance, whatever you choose. To highlight some of the benefits of using our services:
You determine the completion time
No in-person meetings required. Communication is done via email, screen sharing and telephone
No traveling
No added payroll
Home page content can be written for you
Optional copywriting service for the remainder of the website
We supply thousands of generic images to use on the website if you do not have your own
Private web link to monitor your website during construction
Your existing website will remain in place and fully functional during construction or redesign
We will gather statistics on your old website as well as your new website for comparison
Guaranteed Results
At 6×6 Design, not only do we know what a website can do for you, we guarantee it.
Website Statistics
As a standard design element, we code your web pages to automatically collect visitor statistics and observe your customers or clients while they're browsing your website. Once people begin finding your website, visitor usage statistics are monitored to spot potential search marketing and search engine trends which could further enhance your website's effectiveness.
Grow Your Business Website in Time
Don't believe your website has to be finished all at once. In fact, a successful website is never finished! We believe in providing continual website design and SEO services allowing your website to grow as your small business grows. We do not believe in placing construction messages on a temporary page either. No visitor ever wants to see an incomplete website, especially search engines.
Your website will be custom built one page at a time to allow site elements, content and options to be added to it later if you choose. This way, your marketing budget isn't depleted all at once. Give us a call or drop us an email and let's see how easy we can make search engine marketing and website design for you.
Have More Questions? Ready To Start?
We highly suggest reviewing our Planning Your Website checklist next. This list contains questions we commonly ask our clients to help us better understand your needs. When you're ready, simply contact us for a free consultation and estimate here or call 585-861-7483.