Google+ Local Map Optimization
Google Places, formerly Google Local and a couple of other names, allows businesses to have a local search engine listing in Google Maps. The best thing about Google's local results is that they show up first or mixed in near the top with regular organic (free) search results. In fact, you don't even have to have a website to have a Google Places account and you can still come up on page #1!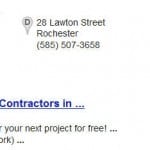 Did you know Google gives you Google Places for FREE?
Did you know that Google may have already created your listing for you? Many local brick & mortar businesses already have one and don't know it. You can search for your listing and claim it – FREE!
Did you know you can Search Engine Optimize your Google Places account to out-perform your competitors and greatly increase your business calls?
You can make you Google Places account stand out above the rest with customer reviews, pictures, videos, coupons, business hours and more – again, all FREE… if you know what you're doing. Because if you don't, and you make one little mistake, you can LOSE that account real fast!
If you'd like top learn more about how 6×6 Design can maximize your Google Places account professionally, contact us and we'll evaluate your account based on your business type and need. One size does NOT fit all when it comes to Google Places Local Marketing. Rest assured your business gets personal attention from the start.
6x6 Design, LLC
Average rating:
0 reviews