Pay Per Click Advertising-PPC
Pay Per Click (PPC) Ads?
Pay Per Click ads, commonly known as PPC or Cost Per Click, are the "sponsored" link ads found to the right and sometimes the top of the search results. Basically, when someone clicks on your ad link, you pay a fee to the search engine whether you convert the sale or not. PPC can be a high risk – high reward campaign when managed properly.
PPC Examples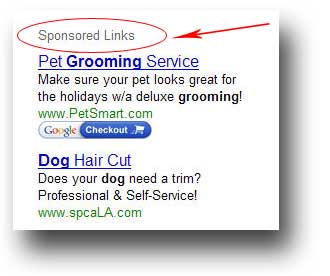 Consider first the cost of paying for PPC advertising. Let's say one ad link costs $2.00 every time someone clicks on it (this link directs visitors to your web site). Then assume a modest 10 clicks per day for one year. That's $7300.00 in advertising budgeting! Consider this statistic: For every 100 visitors to your web site, an average of only 2% of those visitors convert to customers. So for most small businesses, building a search optimized web site to obtain FREE search results is a far, far less expensive solution than risking PPC ads.
For businesses who are willing to risk their marketing budget, PPC ads may be an effective search marketing campaign. However 6×6 Design believes in leveraging the FREE organic search result first then combining PPC campaigns for any gaps found in the free results. This approach is more economical, cost effective, and more precisely targeted.
Another example of a PPC ad campaign:
Let's say your ad averages $1.50 per click.
You get a modest 10 clicks per day.
That equates to $15.00 per day, $105.00 per week, $450.00 every 30 days.
The average online click-to-sale conversion rate is about 2 percent. So for every 300 clicks, 6 clicks convert to a sale.
Your product or service would have to produce at least $75.00 over cost per conversion to break even on the ad costs.
The example above is very conservative and could differ in either direction. To put this into perspective, a major search engine like Google or Yahoo could easily cost your small business a minimum of $400 and up per month or more, on average, just for one text link ad in their Sponsored Ads listings. Another point to keep in mind is a large number of search engines users purposely ignore paid ads all together and only click the free organic listings. Why? Because experience has taught those users to trust their search engines to filter quality information over biased paid ads.
Benefits of PPC Ads
This advertising can be very effective and deliver immediate results, but at a premium price. Basically, the more you are willing to pay, the closer to the top of the search results you'll get and vice versa. PPC can be managed cost effectively though. The campaign administrator has the option to set the time frame to show the ad, set a spending limit per day and set a bid amount (the lower your bid amount, the lower your ad places in the results. Top placement requires a premium bid amount). If you decided to spend $10 per day using the maximum bid about, you may only get 1 or 2 clicks per day and hopefully convert those clicks to a sale or phone call. If you lower your bid amount, your ad will not place as high in the search results and risks being missed altogether. The process is a bit of a gamble and requires continuous monitoring but if you convert one or two high end sales, it pays for itself quickly and can be well worth the effort and cost.
If you would like more free information or advice about your marketing plans, or want 6×6 Design to help you set up a PPC campaign, contact us today. If you're considering a PPC campaign, be sure to give us an idea of your weekly budget amount.